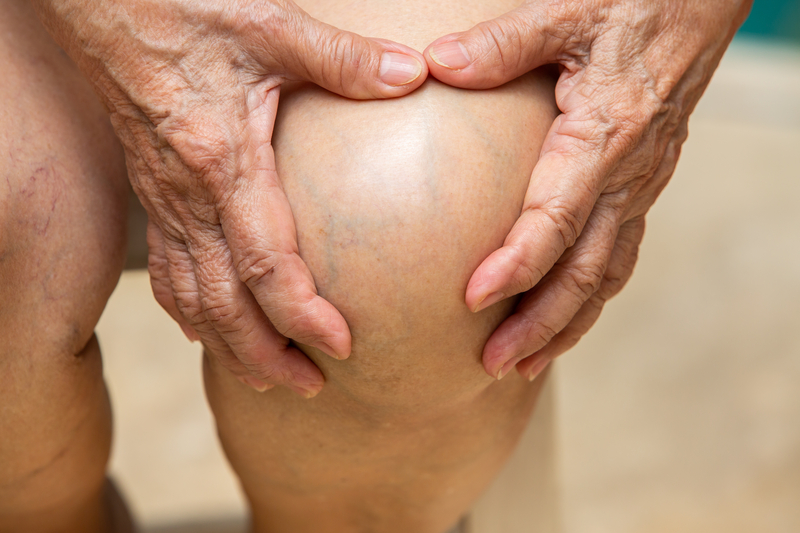 BREAKING NEWS: Research Reveals the "Holy Trinity" Miracle for Super Fast and Everlasting Joint Relief
Nearly 20 percent of U.S. adults experience knee pain.[i] Knee pain can become increasingly painful over time and even lead to joint damage and disability if left untreated.
Injuries often cause knee pain, but we tend to overlook the bad habits in our everyday life that cause knee pain over time. Chronic wear on your kneecap can lead to pain and break down cartilage.
Knee pain often starts out as a mild discomfort and then grows increasingly worse, often due to bad habits that worsen the underlying problem.
While all joints are vulnerable to injury and overuse conditions, the knee is particularly susceptible because it bears high levels of stress just from the activities of daily life.
Because the joint moves not only back and forth, like a hinge, but also twists and rotates, it has even more room for injury to occur.
Knee pain can even be the result of a condition in your lower back, hip or ankle, as the pain can pass along your nerves to other locations in your body (known as referred pain).
If you're already suffering from knee pain, be aware that the following common bad habits may be making your pain exponentially worse.
---
6. Ignoring the Inflammation Connection
On a foundational level, knee pain, like virtually all forms of pain, often has an underlying inflammatory cause.
Even short-term overuse can set off an inflammatory cascade in your immune system, intended to "heal" the overworked area.
If that inflammation persists on a low level, it can then contribute to the very pain it was originally intended to heal.
The inflammatory cascade can easily spiral out of control, along with its associated pain, especially if you continue on with habits that cause you knee pain to begin with.
Try an anti-inflammatory diet, or natural anti-inflammatories like Heal-N-Soothe, can help you relieve this inflammation and pain.
HEADS UP: These 5 Foods Are Making Your Joint Pain WORSE
---
5. Wearing High Heels
High-heeled shoes change the way you walk, putting additional stress on your knees. According to one study, wearing high heels increased the risk of joint degeneration and knee osteoarthritis.[ii] The higher the heel, the greater the risk of knee pain becomes.
---
4. Kneeling Without Padding
Do you enjoy gardening? Play with your kids or grandkids on the floor? Scrub your kitchen floors on hands and knees? Play volleyball? Any activity that requires kneeling can make your pain worse, but doing so without kneepads will worsen pain and potentially cause further damage.
3. Continuing Activities That Cause You Pain
If you know that playing basketball or tennis leaves your knees in agony, you may need to take a break from the sport, or at least reduce it.
The same goes for other activities, such as kneeling or climbing stairs. Taking a break from pain-causing activities will give your knee some time to rest and heal, while preventing further damage.
Once the pain has subsided, you can resume the activity, ideally with some adaptations to prevent the pain from recurring.
---
2. Gaining Excess Weight
The more weight your joints have to carry, the greater the potential for damage, and related pain, becomes.
Research shows that for every 2.2 pounds gained, pain scores increased by 1.9 points on a 500-point scale.[iii]
Losing weight was associated with reduced knee pain, although avoiding weight gain in the first place may be even more important to protect your knees.
---
1. Getting Out of Shape
Even if you're not overweight, if your muscles are weak or out of shape, your risk of knee injury and pain increases.
It's especially important to regularly strengthen your quadriceps and hamstrings, which help support your knees.
---
What You Can Do to Stop Knee Pain Now
Now you know there are lifestyle changes you can make to address your knee pain. Some will take more time than others to reap the benefits. Losing weight and maintaining a regular exercise routine to strengthen your knee will require time and effort. But there are some steps you can take right now to find some quick relief.
Eat more anti-inflammatory foods
First, get inflammation under control. Stop eating foods that spike inflammation response in your body. Learn the foods that cause inflammation and the 10 foods that extinguish inflammation, and eat more of those every day.
Give your knee pain the 1-2 punch every day
Knock out your knee pain with a hook, uppercut by taking a natural anti-inflammatory and joint support supplement daily. Quality supplements fill in the gaps that quality nutrition often can't cover.
To control and lower your inflammation, take a high-quality, natural anti-inflammatory supplement every day. Look for products that contain a mixture of natural anti-inflammatory ingredients and proteolytic enzymes. These blends are highly effective at stopping pain and inflammation fast.
Additionally, you should take a daily joint supplement that helps build cartilage, lubricate your joints, and repair and strengthen your bones.
There is hope… you can end the frustration of chronic knee pain. Stop making these bad habits every day that wear on your knees.
Eat a balanced anti-inflammatory diet.
Maintain an exercise routine to increase your knee strength and mobility.
And, knock out your knee pain cold with a combo punch of a daily anti-inflammatory and joint support supplement.