Live Pain Free ® Cook Book

See Customer Comments
HOW CAN Live Pain Free ® Cook Book HELP?
Can Finding Your One "Trigger Food" Cure Your Pain and Inflammation In Just Days?
This book is much more than just another cookbook with a few recipes and shopping lists.
While it includes dozens of easy to make, delicious recipes, it also helps you identify the specific trigger foods you need to avoid if you want to live pain free.
This book will give you the knowledge you need to identify what is keeping you in pain and show you how to rebalance your system, reclaim your health and finally feel better.
Although the source of every person's pain is different, the concepts I offer in the book are scientifically proven to help all types of pain.
They're also easy enough to use at any stage of your pain cycle and start seeing major results in just days.
You'll benefit immediately because this book focuses on one overriding concept...
Living With Pain Is NOT Normal...
And There's One EASY Step You Can Take To End It Today!
You can break the pain cycle. The Live Pain Free® Cookbook shows you how faster than you ever thought possible.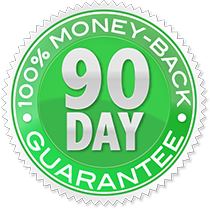 90-Day
100% No Risk
Money Back Guarantee
We truly want to help you live pain free. That's why we test every single product we offer and develop many of our own exclusive products you can't get anywhere else.
If you are unhappy for any reason, simply return your order within 90 days and get your money back, less shipping. Your returned product must be sent back in its original packaging and in like new condition with all parts and pieces.
Please Note: All returns are carefully inspected by the our returns department. If there are any signs of damage, foul odors, pet hair, dirt, and other debris, the return will not be accepted.