Lose the Back Pain - DVD System

See Customer Comments
HOW CAN Lose the Back Pain - DVD System HELP?
The Lose the Back Pain® System™ is the most comprehensive program available on the market today... that's GUARANTEED to help you identify the physical dysfunctions and muscle imbalances you have... and pinpoint exactly what's causing your back pain, sciatica, and herniated discs!
Most of the back pain treatment options available on the market today don't address the underlying cause of your symptoms.
In fact, the main reason millions of people struggle with back pain for 10... 20... 30 years or more is because the treatments they receive are generic – and not specific to their physical pain.
And that's what makes Lose the Back Pain® System™so different.
With this cutting-edge system, you create your own Personalized Self Treatment Program – that helps target the specific type of back pain you're experiencing right now.
It's a powerful 3-part program consisting of DVD's... audio CD's... and an easy-to-read reference manual.
Get rid of your back-pain for good. Join over 56,712 people who've erased back pain and sciatica from their lives...
You see, back pain doesn't just happen overnight. While the pain may seem to appear suddenly, the fact is, the problem has been developing for months – or probably even years!
The real reason you have back pain is because your body and spine have been pulled out of their normal positions and into what are called physical dysfunctions.
Physical dysfunctions are abnormalities in how your body operates. And they're caused by imbalances between various muscle groups – called "muscle imbalances".
And these muscle imbalances are the hidden cause of nearly every case of back pain you're experiencing.
Here's What Happens When Your Muscles Are Out of Balance...
Simply put, a muscle imbalance occurs when one muscle (or group of muscles) works harder than they should... while other muscles... don't work hard enough!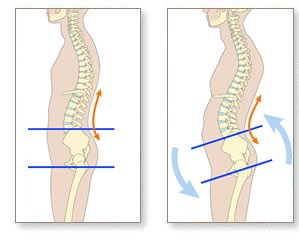 As a result, you can experience host of problems including lower back pain... sore, achy joints... poor posture... chronic fatigue... low energy levels and MUCH more!
You see, the muscles in your body work in balanced symmetry – much like the wheels of a car.
When the wheels are out of balance, you'll begin to notice uneven wear on the tires.
The car will start to pull to one side... you'll get poor gas mileage... and you run the risk of doing permanent damage, or a complete tire blowout!
The same is true with the muscles in your body. When some muscles don't function as they should, the others have to pick up the slack. And that throws them completely out of whack.
And when your muscles are out of balance, they pull your bones and joints out of their normal position – and this places them under constant and uneven stress and strain.
WHAT OUR CUSTOMERS ARE SAYING...


It was the best thing I ever did to buy your product...
I ordered your lose the back pain system and I have almost lost the back pain in a weeks time! I feel so much better. I do the specific stretches and exercises twice a day and my lower back pain has almost disappeared. It was the best thing I ever did to buy your product... at first I thought "oh it probably won't work and it's a lot of money to pay for it", but I am so grateful that I did. Thanks again.
~ Susie Westerback
Disclaimer: Results not typical. Your specific results may vary.


Two Thumbs Up!
I give Steve and Jesse two thumbs up for the assessment and exercises for the specific problems on their tape, "Lose the Back Pain." I had excruciating sciatica pain, radiating from the groin and buttocks down the right leg to ankle for one month. I did try several things for weeks without success, before I sent for your tape. 

Your video saved me months and months and also money for going from one doctor to another for relief. Hugs and thank you guys so much.

~ Dottie
Disclaimer: Results not typical. Your specific results may vary.


I am convinced that your program helped speed up my recovery.
I was fighting sciatic pain for several years, I tried the inversion table, Massage and chiropractor. I ran a 10 mile road race with minimal training. Big mistake! I had sciatic pain that no amount of meds would relieve.
Your Lose the Back Pain program along with massage and chiropractic reduced the pain by 85%. Back surgery reduced the pain to zero. MRI revealed spinal stenosis. Decompression Laminectomy was the procedure. Now, I am playing golf and bike riding 3 weeks after surgery.
I am convinced that your program helped speed up my recovery. Thank you for a great program.
~ Ron D. from Northeast US
Disclaimer: Results not typical. Your specific results may vary.
FREQUENTLY ASKED QUESTIONS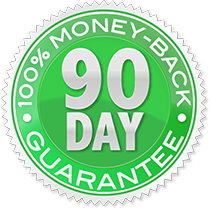 90-Day
100% No Risk
Money Back Guarantee
We truly want to help you live pain free. That's why we test every single product we offer and develop many of our own exclusive products you can't get anywhere else.
If you are unhappy for any reason, simply return your order within 90 days and get your money back, less shipping. Your returned product must be sent back in its original packaging and in like new condition with all parts and pieces.
Please Note: All returns are carefully inspected by the our returns department. If there are any signs of damage, foul odors, pet hair, dirt, and other debris, the return will not be accepted.