Lose the Neck Pain ™ - Physical Version

See Customer Comments
HOW CAN Lose the Neck Pain ™ - Physical Version HELP?
Get rid of your neck pain once and for all with the Lose the Neck Pain® system... developed by the Healthy Back Institute and one of the country's leading neck pain specialist...
Introducing: The First And ONLY Customized Neck Pain Solution Ever Created.... The Lose the Neck Pain® System.
Lose the Neck Pain®™ Workbook And Video
Your first step is to watch the video and fill out our workbook which allows you to customize your results. Here's a quick explanation of what's covered...
An in-depth explanation of how muscle imbalances cause your neck pain, as well as many other areas of your body...
A step-by-step walkthrough of our unique self-assessments inside the workbook to pinpoint which physical dysfunctions you have and how they're responsible for your pain.
Once you've identified your dysfunctions, we then walk you through the corrective exercises, stretches and self treatments that are specific to your condition and are necessary for you to rebalance your body and eliminate your pain.
Lose the Neck Pain®™ Audio CD's
In addition to the video, you'll also receive 3 audio CD's.
Here's what's covered on the CD's:
Audio CD 1 - How To Get the Best Results Using The System - On this first CD we explain in detail how to use the system and how to get relief as quickly as possible. You'll discover...
... some simple tips and tricks about how to get the most out of the system which saves you time and energy...
... our mission and you will understand that even though it is a self paced program, we are here to support you and provide you support in anyway we can.
Audio CD 2 - Strategies for Reducing and Managing Pain - On this CD you'll discover...
... more then two dozen techniques that you can implement in your life right now and for the rest of your life
... strategies on how to use the techniques to help you speed your recovery, while working with the program
Audio CD 3 - Condition Specific Recommendations - If you've been diagnosed with a specific condition, CD 3 will give you specific recommendations, techniques and treatments you may also want to consider.
In this 3rd audio CD we will reveal...
... how the program can help you deal specifically with your symptoms
... how the program can help you deal specifically with your diagnosis
Lose the Neck Pain®™ Reference Manual
The reference manual provides you with exercises, stretches, and pain reduction strategies for easy reference even when you're on the go.
Another vital part of the Lose the Neck Pain® System is the extensive reference manual.
In addition to reviewing the information covered on the videos and audio CD's, it also covers several topics in much greater detail.
Plus, all of the corrective exercises, stretches and pain reduction strategies are included in the manual so you can easily take it with you.
You'll never be wondering what you are supposed to be doing or if you are doing things correctly. With the reference manual you'll have a guide you can go back to again and again should you ever forget an exercise or simply need a "refresher".
Lose the Neck Pain®™ Personal Support
One of the reasons people get such great results using our system is because we provide extensive, effective and unlimited personal support for 90 days.
Just like tens of thousands of others have called on us for help with their back pain, we will provide you with the ongoing support and motivation that you need but aren't getting from your doctor or other health care providers to finally conquer your neck pain.
Once you begin using our system, we will work with you personally to ensure you get the best possible results using our system in the shortest amount of time. We'll answer any and all questions you have and make sure that you are making steady and consistent progress.
You'll receive the following for 90 days...
Unlimited email support
Unlimited phone support
Active discussion forum
Professional review of your assessment photos and findings
Personalized recommendations, motivation and support
We'll even consult with your healthcare professionals if necessary!
You have unlimited access to us... anytime you have questions simply email or call us and we will personally answer your questions with a detailed response within 48 hours, often times much faster!
Whether you have questions about how to use The Lose the Neck Pain® System or just general questions about neck and back pain, we'll be here to answer those questions for you. You can't get this kind of support anywhere else... not even from your doctor!
In fact, if you asked your doctor for support like this you could expect to pay several hundred dollars per month (IF they even let you). You're getting it FREE for 90 days when you order today. This alone is worth many times the price of the entire system!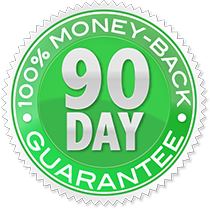 90-Day
100% No Risk
Money Back Guarantee
We truly want to help you live pain free. That's why we test every single product we offer and develop many of our own exclusive products you can't get anywhere else.
If you are unhappy for any reason, simply return your order within 90 days and get your money back, less shipping. Your returned product must be sent back in its original packaging and in like new condition with all parts and pieces.
Please Note: All returns are carefully inspected by the our returns department. If there are any signs of damage, foul odors, pet hair, dirt, and other debris, the return will not be accepted.