Rub on Relief

See Customer Comments
Retail Price: $39.95
Sorry, We're Out Of Stock
Enter your email and we'll
notify you when it's available.
90 Day Money Back Guarantee
Place Your Order By Phone 1(800) 216-4908
HOW CAN Rub on Relief ® HELP?
No matter what your "grin-and-bear-it" pain is… now you can rub the pain away in minutes. You'll feel a little tingle and then… BAM! No Pain.
Rub On Relief® is the ONLY topical pain cream to ATTACK and reduce EVERY type of pain your body throws at you.
Contains only natural healing ingredients and contains no chemicals, preservatives or junk that can be toxic to your body. There are NO side effects. NO stomach upset. NO adverse reactions.
It is so safe you can use it on your children or grandchildren age 12 and up.
Made with
MOTHER NATURE'S OWN INGREDIENTS

Cetyl Myristoleate or CMO
This fatty acid acts as a "moisturizer" on dry and brittle joints. It cushions the joints and repairs cell membranes.
CMO penetrates directly into your muscles, tissues, tendons and joints to quickly turn off the fires of chronic inflammation and relieve your pain at the source.

Methylsulfonylmethane or more commonly MSM
It's a naturally occurring nutritional sulfur. MSM makes the body's cells more permeable which allows nutrients to flow in and out.
It's known among doctors as "The Natural Solution to Pain".
That's because it works two ways to naturally relieve your pain.
First, it blocks the "c" pain nerve fibers from delivering their chronic pain message to your brain. Secondly, MSM decreases swelling and inflammation often the cause of painful flare-ups.

Menthol for Cooling Relief
Menthol is an ancient herbal medicine used by the Greeks, Romans and Egyptians to rapidly cool painful flare-ups in your muscles and tendons. It's why when you use a menthol-containing cream you instantly feel cool relief to aching muscles.
What's more, menthol actually tricks the body with its cooling touch. Menthol sends a cooling pleasing sensation to your brain that thwarts the stinging heat of inflammation. Menthol then acts fast to increase the blood flow by widening the blood vessels to reduce inflammation and pain.

Ignatia Relieves Stress Pain
Ignatia was discovered by a Jesuit missionary serving in the Philippines in the late 1600's. This homeopath calms nerves and reduces the stress which can lead to tight shoulders, a tight neck and painful tension headaches. It relieves emotional distress, allowing your muscles to relax.

Magnesium Sulfate Relaxes Spasms
Perhaps there's nothing more painful than sudden painful muscle spasms. Well there's nothing more fast-acting at stopping muscle spasms and twitching than this vital mineral compound. It's also been shown to reduce aching joint pain by 80%.

Lachesis Mutus Relieves Painful Swelling
A rare homeopathic remedy from Central and South America, Lachesis Mutus, has been prescribed for centuries as a blood thinner. This thinning quickly improves blood flow which speeds healing by removing toxins from the blood.

Phosphorous Stops Muscle Pain
Phosphorous is the second most abundant mineral in your body. And it relieves the burning sensation of tight, painful muscles by stopping the nerves from sending pain messages to the brain. It's especially good at helping muscles rebound after a workout.

Belladonna Stops Shooting Pains
For centuries, healers have used Belladonna as a powerful anesthetic for surgeries. It reduces swelling, eliminates muscle twitches, relieves nerve pain, ends muscle aches and stops shooting pains.

Rhus Tox Eases Stiffness
Another ancient natural remedy, Rhus Tox helps to eliminate stiffness and aches in both muscles and joints. It's good for sprains and back aches too!

Naja for Calming Relief
This rare but amazingly potent homeopathic remedy from India quickly calms nerve-based pain and brings fast relief from inflammation. It's also very effective at curing migraine headaches.
WHAT OUR CUSTOMERS ARE SAYING...


Stop Pain Before It Starts
We all know exercise is good for us, but ouch it can hurt. You could ache for days. So here's a trick to stop pain before it starts… dab a squirt of Rub On Relief on right after your workout… before the painful flare-ups. That way you'll "short-circuit" the pain at the source.
"I use Rub On Relief when I've had a longer than usual workout, or played basketball. I noticed immediate pain relief from workout soreness. It helps me continue being active like I want to be."


~Isaiah Fox, Florida
Disclaimer: Results not typical. Your specific results may vary.


Soothe Joint Pain
"I have arthritic hips, legs, back and ankles. I have used a variety of mail order products. None of them worked. I tried Rub On Relief and very quickly the pain went away. I was amazed I found something that worked for me. I apply the cream twice a day—in the morning and right before bed—it lets me go through the day easily."
~Violet Skov, Arizona
Disclaimer: Results not typical. Your specific results may vary.


The pain is nearly all gone
"2 days ago I seriously sprained my big toe, I thought I broke it. It was very painful and terribly bruised, I rubbed the relief cream on it and got some relief, last night I rubbed more and slept well. This morning most all of the bruising is gone and the pain is nearly all gone. I wished I had taken a before pic and after to show. Thank you so much for this wonderful product"
~ Kathleen Crane 
St. George, UT
Disclaimer: Results not typical. Your specific results may vary.


began using Rub on Relief instead...
"I have arthritis in my hands, fibromyalgia, and recently had rotator cuff surgery. I stopped using prescription Voltaren gel and began using Rub on Relief instead, I can't tell any difference in the relief and the price is much less. I bought the 9 tubes. I'm good for a while and the smell isn't as strong. Thanks! -Nancy Lail, Nebo NC"
Disclaimer: Results not typical. Your specific results may vary.


I've ditched the awful wheelchair
"Hello Jesse and all the amazing team! I would like to thank all off you for the help you have all given to me. I have been using Heal-n-Soothe, Super Joint Support and Rub On Relief for 12 weeks now. The joy and happiness they have given me is unreal. I have had osteroarthitis for over 15 years being unable to do a lot off thing i.e with my 2 sons and daughter. Also, 5 grand children. But now, I'm out and about Walking with the help of my stick. Yes, I've ditched the awful wheelchair and that's not all. I've even decorated the bathroom by myself ( apart from the bits I couldn't reach at only 5ft 2in). Also, I've stopped taken naperxain they didn't do me much good anyway. I will soon be 58 year old and about living and enjoying having 5 grandchildren. Thank to all of you!"
Disclaimer: Results not typical. Your specific results may vary.
FREQUENTLY ASKED QUESTIONS
*These statements have not been evaluated by the Food and Drug Administration. This product is not intended to diagnose, treat, cure or prevent any disease. If you are pregnant, nursing, taking medication, or have a medical condition, consult your physician before using this product.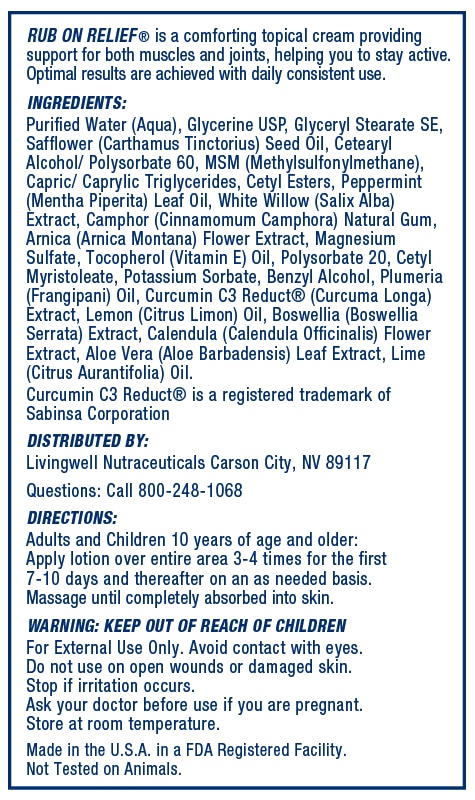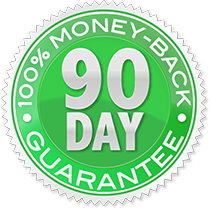 90-Day
100% No Risk
Money Back Guarantee
We guarantee you'll love Rub on Relief or we'll refund your money.
If you're not happy for any reason, simply return Rub on Relief within 90 days of your purchase date for a full refund, less shipping. No questions asked.
For Single Bottle Returns
Simply return your bottle, even if it's completely empty, and you'll receive your full purchase price, excluding shipping.
For Multi Bottle Returns
Return all your bottles and you'll receive a prorated amount based on the number of unopened bottles returned, excluding shipping.