ThinMist

See Customer Comments
Retail Price: $59.00
In stock - Ships today if you order before 1pm CST
Convenience and savings of
$10 OFF each bottle

Place Your Order By Phone 1(800) 216-4908
The genius of ThinMist™ is that it's a 100% natural way to safely boost your pituitary gland's NATURAL release of HGH 'youth hormones'...
... using a complex series of 7 known 'HGH precursors'.
You simply take ThinMist™ three times each day by spraying it under your tongue. (Easy.)
And as the ingredients slowly build up your system, your body NATURALLY begins releasing more youthful levels of HGH.
... With ThinMist™, your body NATURALLY regulates its own production of HGH!
Speed up your metabolism to more youthful levels... so you naturally burn calories FASTER.
Increases your aerobic capacity... so it's EASIER and more enjoyable to exercise!
Replaces FAT with calorie-burning lean muscle... sculpting your body while further boosting your metabolism!
Improves your sleep quality... mood... and energy levels so you naturally start feeling better about yourself and making HEALTHIER CHOICES!
Reduces cravings and tames your inner Carb Monster by helping regulate your blood sugar and serotonin ('happy hormones').
So instead of relying on artificial stimulants that leave you feeling jittery and queasy once they've left your system, ThinMist™ helps regulate your production of insulin, dopamine, serotonin and other catcholamines.
So that you feel NATURALLY energized and motivated, without crazy highs and lows!
IMPORTANT NOTICE:
Canada, Australia & Germany Customers: Due to regulatory issues...we are unable to ship our ThinMist product to you, we apologize for any inconvenience this may cause.
Made with
MOTHER NATURE'S OWN INGREDIENTS
ThinMist is a unique liquid supplement formulated for three specific objectives:
Reduces cravings by helping regulate your blood sugar and serotonin ("happy hormones").
Supports your body's natural "youth" hormone levels — speeding up your metabolism so you naturally burn calories FASTER.
Improves sleep quality, mood, energy levels, sexual function, and general well-being.
The formula is equally effective for both men and women. ThinMist is not a HGH product and does not contain any HGH.
Glucose Regulation

Chromium (GTF)
Chromium (GTF) is the "forgotten mineral" that helps regulate insulin and stabilize blood sugar levels. According to researchers, better control of blood sugar helps enhance fat loss, regulate your metabolism, decrease carb & sugar cravings, and even ward off heart disease and diabetes. Multiple studies link Chromium supplementation with lower levels of belly fat — all with little change in your diet or exercise routine.
It's nearly impossible to get your daily recommended dose of Chromium via your diet. That's why each spray of ThinMist gives you a 500 mcg mega-dose of high-quality, fat-burning Chromium Nicotinate.
https://www.ncbi.nlm.nih.gov/pubmed/7005627
https://www.ncbi.nlm.nih.gov/pubmed/9268955
ChromeMate is a niacin-bound amino acid chelate form of Chromium. Chromium bound with Niacin is what "GTF Chromium" is. So the answer is yes, ThinMist contains GTF Chromium as Chromium Nicotinate is the chemical name for GTF Chromium.
Growth Factor Complex


GABA or Gamma Amino Butyric Acid
GABA is your brain's "relaxation" neurotransmitter. It sends signals to your brain to reduce stress, balance your emotions, and help you sleep like a baby. But what does GABA have to do with weight loss? Studies show people with balanced GABA levels tend to suffer from fewer bouts of emotional eating. Health experts say increased GABA production & supplementation helps reduce those late-night ice cream and cookie cravings.
https://examine.com/supplements/gaba/
https://www.metaboliceffect.com/is-your-brain-making-you-fat/

Mucuna Puriens (Cowhage)
Mucuna Puriens has a great track record in showing a decrease in both adrenaline and cortisol stressors. Studies also show it can help rebalance dopamine (your "pleasure" hormone) levels. This helps halt impulsive eating habits. As a bonus, studies also show Mucuna Puriens can have a nice little aphrodisiac effect, which give your sex life a boost.


Eurycoma Longifolia
The Eurycoma Longifilia root is also known as "Mother Nature's Boner Pill." Simply because multiple studies show this ancient root contains anti-estrogenic, pro-erectile properties. Eurycoma Longifilia can help improve erections, libido and even sperm quality. (Don't worry, ladies — that's not all it helps with). Eurycoma also supports healthy cortisol and stress levels. And a study in the British Journal of Sports Medicine shows it can help promote lean mass gain.

Colostrum
Colostrum (bovine) — otherwise known as "first milk" — is produced by all mammals. Colostrum rich in proteins, growth factors, antibodies, immunoglobulin and other antimicrobial compounds. Studies show it can help support weight loss & overall health by rebalancing the body's ability to support lean muscle mass. It also helps decrease fatigue, improve insulin secretion, reduce blood glucose, and lower total cholesterol.

HGH Stimulator 14mg

Ornithine Alpha Ketogutarate
Ornithine Alpha Ketoglutarate, (OKG) is the master regulator of amino acid synthesis, It is used by the body to rebuild and repair soft tissue, as well as support hormonal balance.

L-Glutamine
L-Glutamine is the most abundant amino acid in your body and it plays a key role in muscle growth, immune system function, and increasing human growth hormone (HGH) your body's natural "anti-aging" hormone. A study from Louisiana State University College of Medicine shows supplementing L-Glutamine can provide a 400% natural boost in your body's HGH production.

L-Arginine
The list of L-Arginine's benefits is a mile long, but L-Argenine helps increase nitric oxide activity in the body. Nitric oxide opens up blood vessels. This improves blood flow throughout your body. Studies show increased blood flow by supplementing with L-Arginine can help improve weight loss, mental capacity, muscle gain, and even erectile dysfunction.

L-Valine & L-Isoleucine
L-Valine and L-Isoleucine are amino acids that help support muscle recovery, reduce muscle fatigue, and promote healthy weight loss.

L-Tyrosine
L-Tyrosine is another essential amino acid that's a precursor for several different neurotransmitters, including dopamine. L-Tyrosine is used by athletes to help relieve stress, enhance recovery, reduce anxiety, and improve mental cognition.

L-Glycine
L-Glycine is another essential amino acid found in both plant and animal proteins. A study in the American Journal of Clinical Nutrition shows L-Glycine can help reduce oxidative stress and oxidant damages which cause aging. L-Glycine can also help improve digestion, support lean muscle gains, boost immune function, and repair damaged joints.
WHAT OUR CUSTOMERS ARE SAYING...


The 46-Year-Old Who Got His Weight Below 200 lbs. ... For The First Time In Over 25 Years!
I made no changes to my diet in the first 6 weeks. And I wasn't exercising. (L-A-Z-Y!)
But I'll be darned if the weight didn't just start falling off. (Despite my lack of effort.) And while the results weren't super dramatic on the scale –
I was dropping PANT SIZES! Fast...!!!
I quickly recognized that, just like the clinical studies of HGH reported, I was replacing my FAT with LEAN MUSCLE, which weighs more than the fat.
So the scale wasn't telling the entire story. But wow –
my overall body shape was changing
.
I was looking slimmer and trimmer... ('Yummy' – as my wife told me, ha ha.)
Anyway, I did a really TERRIBLE job of tracking my results in the first 2 months. (Like I said, early on, I wasn't that motivated.)
But somewhere around the 8 week mark...
I got EXCITED by the results I was seeing.
And I made a couple of simple changes to my lifestyle – making healthier food choices, and doing Jujitsu twice per week (for 2 hours each session).
So now...?
I'm down to 187 lbs. A full 25 lbs. of fat – whoosh – gone!
Though, I've probably lost even more fat than that because I've been gaining lean muscle the entire time. I really should have measured my percentage body fat before I started.
But anyway, this new after picture of me was taken after 4 months of supplementation with ThinMist.
And as you can see, I'm looking better than I have in YEARS!
Plus, I think what's really interesting is how much better I feel. I'm sleeping better... I'm not getting crazy carb or sugar cravings... My energy levels are WAY up... And I'm feeling motivated to continue maintaining these simple lifestyle changes.
Honestly, I can't believe how easy this weight loss has been.
And I can only imagine how much BETTER ThinMist could work for someone who has more weight to lose than I did... Or, who is more motivated to eat healthy and exercise 3-4 times per week instead of just 2 times like me.
At 46 years of age, this is the best I've ever looked and felt. I'm happy with where I'm at.
~ Steve Hefferon
Disclaimer: Results not typical. Your specific results may vary.
FREQUENTLY ASKED QUESTIONS
*The statements made regarding this product have not been evaluated by the Food and Drug Administration. The efficacy of these products has not been confirmed by FDA-approved research. These products are not intended to diagnose, treat, cure or prevent any disease. All information presented here is not meant as a substitute for or alternative to information from healthcare practitioners. Please consult your healthcare professional about potential interactions or other possible complications before using any product.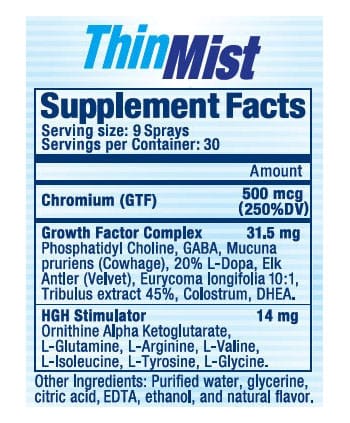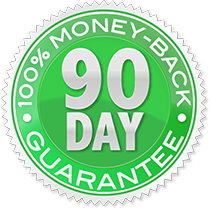 90-Day
100% No Risk
Money Back Guarantee
We guarantee you'll love ThinMist or we'll refund your money.
If you're not happy for any reason, simply return ThinMist within 90 days of your purchase date for a full refund, less shipping. No questions asked.
For Single Bottle Returns
Simply return your bottle, even if it's completely empty, and you'll receive your full purchase price, excluding shipping.
For Multi Bottle Returns
Return all your bottles and you'll receive a prorated amount based on the number of unopened bottles returned, excluding shipping.